Product Description
The KC901M is a general-purpose RF multimeter. The main function is a single-port vector network analyzer (VNA, S11). It also supports vector transmission test (S21 scalar and vector), simple spectrum analyzer, field strength meter, RF signal source, and audio. Signal source and other functions. The KC901M is powerful and practical, with good accuracy, and includes a battery that supports 4 hours of continuous operation. It is only 1 cubic centimeter in size and weighs only 1 kilogram. It is easy to carry and easy to operate.
Main Feature
9KHz-9.8GHz frequency range
1Hz frequency stepping
Full digital intermediate frequency
Reliable accuracy and stability
Strong anti-interference ability
Rich features and lightweight design
Main Function
Transmission test (amplitude: debug filter, amplifier, verify antenna directivity, phase: provide basic phase change trend)
Reflection test (vector: debug impedance matching, check antenna feeder system)
Spectrum display and field strength observation (check the radio transmission performance, find the interference source)
Audio source
RF signal source (carrier)
Recommended Application
KC901M is mainly used for microwave communication, radar antenna maintenance, microwave scientific research, wireless Internet of things engineering, professional communication, confidential and safe, education, drone, remote telemetry and rejection, satellite earth station, radio astronomy, installation and maintenance of nuclear magnetic resonance equipment, secondary development (interface protocol disclosure) and so on.
Acceptance and check
confirm if the package is alright before opening it. read the introduction of the
user manual and make sure there is no missing item.
The standard packing includes:
KC901V 1
Charger 1
Shoulder Strap 1
check all the items in the package with the list provided above and make sureUser manual 1

that there is no physical damage of the instrument, with all the screws set well in
place, and check if there is any abnormal sound while shaking it.
After performing the physical check, connect the charger to the instrument and
turn on the instrument to check if it works as spec. If batteries are in place, press and
hold the power button (POWER, PWR) for 5 seconds to do the start-up check.
Safety Information
KC901M is NOT a consumer good, the user should have related professional
knowledge.
In this user manual,
Attention
Indicates that it may cause inaccurate testing results or may be some risk.
Warning
Indicates that it may cause Personal injury or Equipment failure or other hazard.
Package
Product Size: 20x12x5cm
Net Weight: ≈1.5kg
Package Size: ≈ 30cm×26cm×15cm
Gross Weight: ≈ 2.0Kg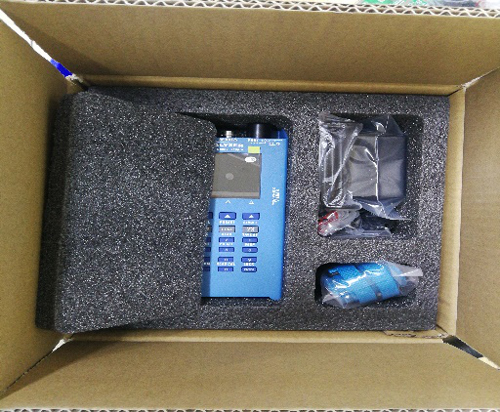 Warranty
1-year warranty